Film is an entity that manages to divide an audience so forcefully and powerfully that those reactions will forever be marked in history, and cause a film to be recognised years beyond it's time. Regardless of your feelings towards Darren Aronofsky's highly controversial and divisive Mother! there is no possible way you cannot commend the film for the sheer emotional barrage and technical delicacies that it so beautifully births for the cinematic audience.
When a doctor unexpectedly shows up at a couple's perfect haven and disrupts their peaceful daydream, it's down to the wife to reinstate boundaries and let the guest know he isn't welcome. As more of the doctor's family suddenly appear at the newly refurbished home of the couple, it's only a matter of time before tensions start to rise and madness breaks out.
Never has there been a film more distressing and frustrating to watch than Mother! – it's an onslaught of evocative emotions that will leave you feeling like you've just been personally abused by Aronofsky and his devoted gang members consisting of Javier Bardem, Michelle Pfeiffer and Ed Harris. Even though it's intense in every sense, and may leave you bewildered, distraught and aching after your initial viewing, it also delivers the same exciting anxiety you experience when attending a wildly boisterous house party that has spiralled out of control after far too many tequila shots and phone calls to random friends inviting them to gatecrash. That being said, Mother! will still grab you by the heartstrings and force an overwhelming sense of empathy on you, because there's no way (especially as a female) you cannot resonate with the desperation that seeps from every pore belonging to the distressed woman.
Even though Mother! is not the depiction of a horrific and terrifying pregnancy, as a woman myself and speaking with many other women, it held true in many ways to the everyday struggles of being a female. From the very beginning Lawrence is subjected to an ongoing power struggle between herself and Bardem; although they are equals within their relationship and home, Bardem consistently has the final word and leaves Lawrence feeling powerless in the home that she helped to rebuild after a devastating fire that caused Bardem to lose everything he held dear. She bares her soul for him, and would lay down her life for him, to be disregarded in important matters and feel as though her voice is lost within the plastered walls that surround their evolving life together. This is where those three simple yet distinctive camera shots come into play; the audience find themselves either peaking over Lawrence's shoulder, watching close-up shots of the emotion paining her or first hand experiencing her point of view. By using only these three camera techniques throughout the film, the audience are captured within Lawrence's mind and forced to feel certain emotions. The cinematography presented to us is brutal; it doesn't let the audience feel comfortable at any one point, making them feel constantly violated by someone else's thoughts and feelings, which is not something commonly achieved by filmmakers. Aronofsky has already proven with previous films such as Requiem For a Dream and The Fountain that he understands his films will not adhere to the likes of everyone, and can be seen as forceful, stressful and bleak. However, lovers of cinema cannot deny that he is a master of his trade, and even though comes across as pretentious to some, highly appeals to those within his niche.
The reason some viewers found Mother! to feel pretentious and pompous, is often due to the biblical methodologies which verge on blasphemy by showing how religion and what was created by the divine one has destroyed nature completely. But the most beautiful aspect of Mother! is it doesn't have to be an attack on faith if you don't want it to be. The film may spiral uncontrollably into claustrophobic chaos, but for the majority of runtime it is a slow and powerful film that holds dominance over many meanings that can resonate with a plethora of audiences; it is presented like a poem, open to interpretation by those who have the capacity to endure the torturous disturbances of emotions that are injected into their temporal lobe, and transcribe them into a reality that is coherent to their situation.
Aronofsky's distressing and cataclysmic film will forever uphold it's place amongst cinematic history with the debates erupted between fans, critics and even other filmmakers. Mother! is an emotional annihilation; one which leaves the viewer feeling as though they were aggressively buckled to a splintered chair, whilst being tortured with the angst, suffering and heartbreak felt by another human. Regardless of your feelings towards the film, there is no denying that Mother! is a true cinematic masterpiece.
Verdict: 5 out of 5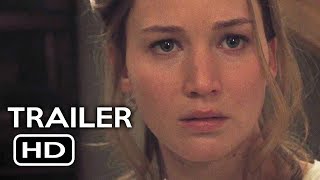 ​